Back in 2017, the CASE Act ("Copyright Alternative in Small-Claims Enforcement Act of 2017") was introduced to establish a copyright small claims system for pursuing infringements on a smaller scale in the US. That bill expired without being passed, new and revised CASE Act bills were just introduced in both the House and Senate this week to revive the effort.
The two bills are both named the "Copyright Alternative in Small-Claims Enforcement Act of 2019." The House bill (HR 2426) was introduced yesterday by Hakeem Jeffries (D-NY) and Doug Collins (R-GA), and the Senate bill (S. 1273) was introduced today by John Kennedy (R-LA), Thom Tillis (R-NC), Dick Durbin (D-IL), and Mazie Hirono (D-HI).
The problem with the current copyright legal system in the US is that the vast majority of infringements against photographers are of relatively lower value (e.g. less than $3,000) while the majority of lawyers dealing with infringements would only take on cases with relatively larger potential payouts (e.g. over $30,000).
The establishment of a copyright small claims tribunal would help bridge this monetary gap and fix this problem.
"People will still be able to pursue infringement cases in federal court but this is for individuals who cannot afford that expense," NPPA General Counsel Mickey Osterreicher tells PetaPixel. "The small claims copyright tribunal may be a viable alternative when seeking a small licensing fee or [for photographers] wishing to represent themselves."
For smaller value copyright infringement cases, photographers would be able to present claims before a tribunal and be awarded damages that are limited to a lower value than what you can receive through the federal court system (e.g. $30,000).
Notable photography industry organizations that support the CASE Act include the American Photographic Artists, American Society of Media Photographers, National Press Photographers Association, North American Nature Photography Association, and Professional Photographers of America. A number of representatives from the organizations were on Capitol Hill this week to cheer on the bills.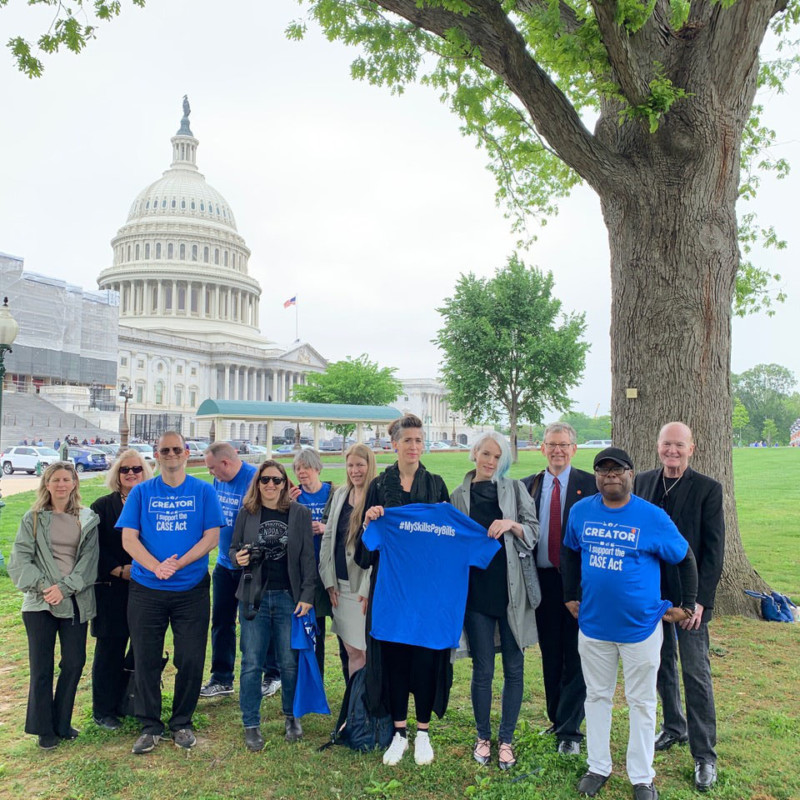 "[V]isual journalists currently face a long, expensive process to be compensated for the theft of their work," says NPPA President Michael P. King. "The manner in which infringement persists without a workable remedy is economically devastating for photographers, their clients, and their employers. It is our hope that the balanced nature of the CASE Act provides a real solution for photographers and other authors."
Due to how costly (in both time and money) it can be for photographers to pursue copyright infringements, many companies and publishers these days willfully infringe on photographers' copyright knowing that it's unlikely they would suffer any consequences.
"Under increased competition from others who infringe with impunity, some publishers now use photos without permission, credit or compensation under the premise of 'act first, apologize later,'" says Osterreicher. "As part of that cost/benefit analysis, publications weigh the probability of discovery and resulting litigation against the time and cost involved in obtaining prior permission and proper licensing.
"We hope that the CASE Act changes that equation and enables both sides to have a reasonable and affordable venue to resolve these misappropriations."
You can read the bills for yourself here:
"In its current form, the copyright system leaves no practical way for many creators to protect their rights as copyright holders," says Senate bill co-sponsor Hirono. "Federal district court litigation is simply too expensive and too complex for small photographers, artists, and the like to pursue valid claims against copyright infringers. The result is a system where those who rely most on their copyrighted works for their livelihoods are forced to sit back and watch while others use those copyrighted works free of charge.
"The CASE Act will go a long way toward fixing this situation. By creating the Copyright Claims Board, the CASE Act establishes a venue where small creators can actually enforce their intellectual property rights and finally bear the fruit of their work."
---
Image credits: Header illustration based on photo by Ken Teegardin/www.SeniorLiving.Org and licensed under CC BY-SA 2.0