Canon and Nikon made a huge splash with their first full frame mirrorless cameras, the EOS R/P and Z6/7 (respectively), but Sony seems to be holding onto its huge market share lead in Japan as excitement over the new contenders wanes.
New Japanese camera sales data published by BCN reveals that the top camera, the Sony a7 III, is outselling all of Canon and Nikon's full-frame mirrorless cameras combined.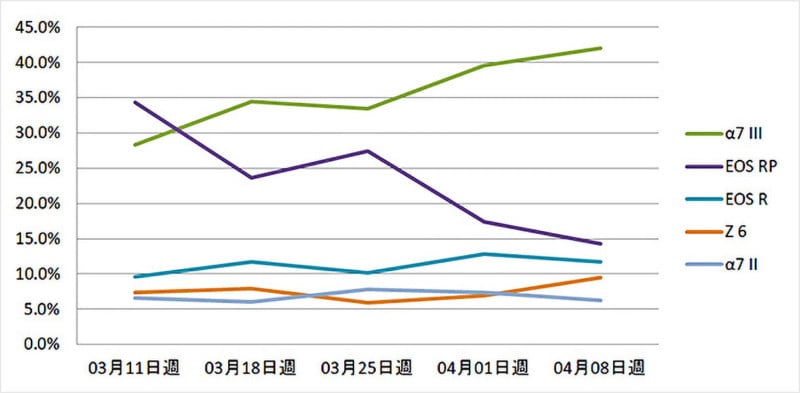 After the $1,299 Canon EOS RP — the smallest and lightest full-frame EOS camera ever — hit store shelves at the end of February 2019, it briefly outsold the Sony a7 III. But in the weeks since, sales of the EOS RP have fallen dramatically while the Sony a7 III has seen a significant increase.
The $1,998 Sony a7 III enjoyed a leading 42% market share in early April 2019 while the Canon EOS RP, Canon EOS R, and Nikon Z6 represented the next 3 best-selling full-frame mirrorless cameras, respectively. But their market shares of about 14%, 12%, and 9%, respectively, only combine for around 35% of the market.
What's more, the 5th best-selling camera is also by Sony — it's the a7 III's predecessor, the a7 II, with about 6% market share.
BCN notes that the EOS RP's drop in sales may be due to full-frame mirrorless camera customers being less sensitive to price differences and the fact that Sony's ecosystem already has a large number of native lenses while the Canon RF system still only has 4 (with 6 more on the way).
(via BCN via CanonWatch)