Online shopping used to give buyers the perk of not having to pay sales tax, but the Supreme Court ruled last year that states can force online retailers to collect taxes. B&H just unveiled a solution to this "sales tax problem": it launched a new credit card that refunds all sales tax on all orders for all customers.
It's called the Payboo card, and it's the first-of-its-kind credit card that's specifically designed to eliminate the impact of state sales taxes for online shoppers.
After applying for and obtaining a no-annual-fee Payboo card (if you get approved), customers can shop at B&H through the website, over the phone, or even in the NYC megastore and pay with it. Anything purchased will include an instant savings that's exactly equivalent to how much your local state tax charges. You can check your local tax rate by punching in your zip code on the B&H credit cards page.
For example, if you live in Los Angeles, California, and buy a $3,000 camera, a 9.5% sales tax is tacked onto your order, increasing the price you pay by $285. If you pay with the B&H Payboo Card, you get an instant reward for $285, so your card will only be charged the original $3,000 instead of $3,285.
"The savings are instant – no future credits, points to accrue, or coupons to worry about," B&H says.
And this instant savings will be given to customers anywhere in the US, including those who live in B&H's home state of New York.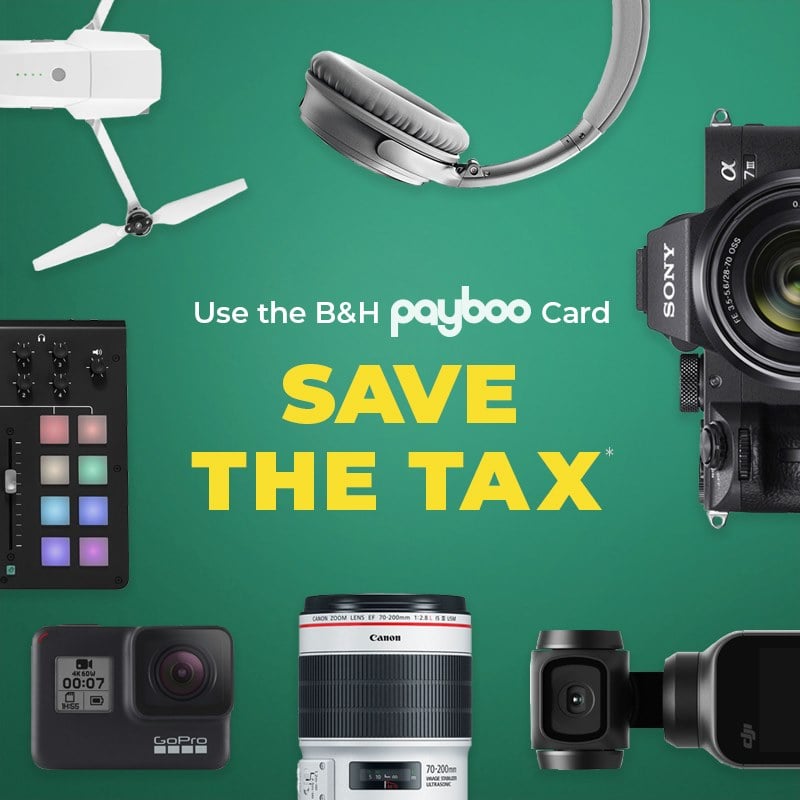 29 states have already begun forcing online retailers to collect sales tax for them, and it's believed that most states will follow suit by the end of 2019.
"B&H has always believed that if we treat people right, they will come back," says B&H CEO Menashe Horowitz. "The Payboo Card reflects B&H's commitment to provide customers not only with incredible service and products, but also unique savings by applying an instant reward that offsets the impact of sales tax.
"This is a common-sense way for us to help our customers save money as they've come to expect when shopping at B&H."
There's one caveat, though: while the average APR for credit cards is around 14% to 19%, the Payboo card has an APR of 30%, so you'll definitely want to pay off purchases made on the card right away rather than let interest quickly outweigh the sales tax savings.
If you'd like to shop for camera gear without the extra hit from local sales tax, you can get started with the Payboo card by applying for one at B&H.