DJI just announced the Osmo Action camera, a new product that directly rivals GoPro's bread-and-butter action cameras. The world leader in drones is now gunning to be the world leader in action cameras.
GoPro tried to rival DJI's drones back in 2016 by launching the Karma, but that drone failed to gain traction and was discontinued less than two years later. Now DJI is returning the favor by unveiling an action camera that competes against the GoPro HERO line.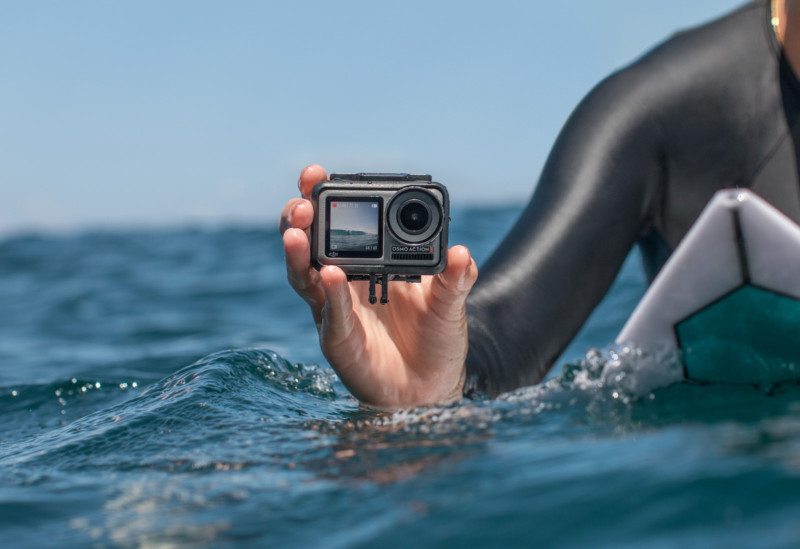 The DJI Osmo Action features a durable design that's dustproof, shockproof (from drops up to 5ft/1.5m), waterproof (down to 36ft/11m without any housing), and freezeproof (down to 14°F/-10°C).
There are color screens built into both the front and the back of the camera, "a unique design feature that allows for more convenient scene composition while on the move," DJI says. The back screen measures 2.25 inches and is a touchscreen that repels water and fingerprints. The front screen is a 1.4-inch display that is designed to make shooting vlogging and selfies easier. The screens feature a brightness of 750 nits, allowing them to be used in direct sunlight.
The user interface of the Osmo Action consists of three dedicated buttons that let you power on, start recording, and rotate through video and capture modes. The SnapShot feature lets you turn on the camera and start recording in less than two seconds by pressing the shutter button once.
In the area of image quality, the DJI Osmo Action features a 1/2.3-inch sensor that captures 12-megapixel photos and 4K video up to 60fps at 100Mbps. The sensor sits behind a three-glass aspherical lens that reduces warping and distortion. There's also an anti-fingerprint and anti-reflective coatings.
The Osmo Action can shoot High Dynamic Range (HDR) video, capturing an extra 3 stops of dynamic range to preserve details that are often lost in difficult lighting conditions.
DJI is drawing from its experience with designing stabilized cameras for aerial drone imagery for the stabilization in the Osmo Action. The camera is the first DJI handheld camera to feature RockSteady Electronic Image Stabilization (EIS) technology.
"High-performance stabilization algorithms work in conjunction with EIS to record every movement in smooth, stable, high-quality video, even when recording 4K/60fps," DJI says.
Other features and specs of the Osmo Action include a removable battery (with a life of 93m shooting at 4K/30fps with EIS or 135m shooting at 1080p/30fps without EIS), dual microphones, a speaker, slow motion (8x at 1080p/240fps or 4x at 1080p/120fps), timelapse, manual exposure, and compatibility with a large ecosystem of accessories.
Here are a couple of videos that contain sample footage showing what the Osmo Action can do:
The new DJI Osmo Action is available now from DJI with a price tag of $349. It'll hit store shelves on May 22nd, 2019.