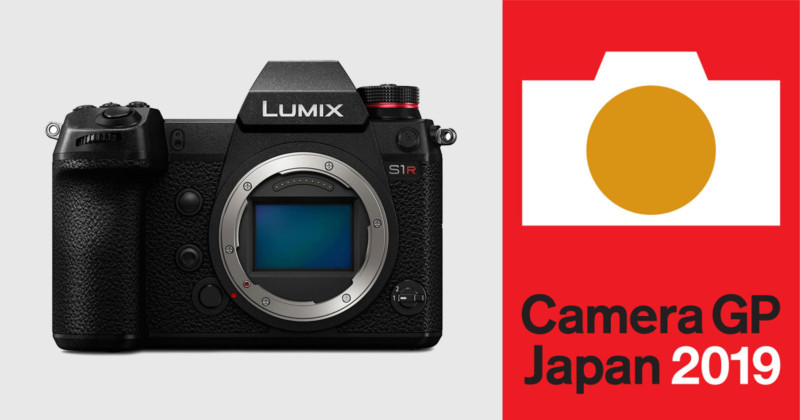 Canon and Nikon both unveiled their first full-frame mirrorless cameras over the past year, but it's actually Panasonic that launched the best camera according to the Japanese photography press. The Lumix S1R was just named "Camera of the Year" at the prestigious Camera Grand Prix 2019.
Put on by Camera Journal Press Club (CJPC), a group of 10 magazine and website publications specializing in photos and cameras, the annual Camera Grand Prix recognizes the best camera equipment released over the previous fiscal year.
Last year's top prize winner was the Sony a9. This year the Lumix S1R has been receiving rave reviews for its sensor quality, which was found to be among the best on the market.
Here are the winners of this year's Camera Grand Prix awards along with explanations for why they were selected:
This is one of the company's first 35mm full-frame mirrorless models, launched along with LUMIX S1. Excellent all in all, in functionality and operability, appealing to users' sensibility.

LUMIX S1R symbolizes Panasonic's strenuous efforts made through the years since LUMIX G1 was released in 2008 as the world's first mirrorless model (Camera Grand Prix 2009 Editors Award winner).

The effective 47.3-megapixel CMOS sensor combined with the image processing engine realizes a highest-level resolution, producing images that are sharp, glossy, and yet natural enough. Its High Resolution Mode synthesizes 8 consecutive images to create a stunning image equivalent to 187-megapixels. The high-precision electronic viewfinder with 5.76M-dot OLED (Organic Light-Emitting Diode) boasts a 0.78x magnification ratio, offering the finest views among all mirrorless cameras. The autofocus function using the company's original Depth From Defocus technology is so fast and precise that, coupled with the deep-learning AI technology, it makes itself perfect to capture such moving subjects as humans and animals.

The rugged design, weather-resistance, and the well-designed button layout that ensures a firm, comfortable grip all contribute to the model's high credibility and operability.

Its great performance and elegance deserving to a high-end camera are successfully embodied together. The large-sized body denotes that a mirrorless camera's advantages are fully incorporated in it.

Panasonic's technical cooperation with Leica Camera and Sigma, namely "the L-Mount Alliance", gives wider options to users for interchangeable lenses, surely diversifying the camera systems.

Many of the Selection Committee highly appreciated the degree of perfection and ambition displayed on this model.
This large-aperture prime lens provides the widest angle as of today in Sony G Master series, in which the company has achieved, with its advanced optical technology, high resolution as well as spectacular bokeh at the same time.

Although it is a large-aperture, wide angle lens, the image quality is well preserved even towards the image peripheries in both sagittal and meridional directions, so an unwanted spreading of point light sources is thoroughly suppressed, offering a high resolution, beautiful picture with little aberration. It gives spectacular resolution even at the widest F1.4 aperture, realizing the long-awaited capability for shooting a starlit sky. Furthermore, its glassy bokeh is not only beautiful but natural as well.

Unlike other manufacturers' large-aperture lenses, this one is highly small and light, going against the current trends of higher-performance, larger and heavier lenses. With little distortion, its great usability goes beyond scenic photography.
A camera which dramatically changed the concept of a mirrorless flagship.

Although this is a Micro Four Thirds model, it has an integrated vertical grip that can be firmly held and comfortably used for both vertical and horizontal shooting.

Its 5-Axis Image Stabilization with up to 7.5 Shutter Speed Steps Compensation, the reliable dust-proof, splash-proof and freeze-proof construction that allows you to shoot even in a harsh environment, and its AF performance superbly tracking moving subjects were all rated highly.

Its Handheld High Res Shot Mode as well as the Live ND (Neutral Density Filter), both reflecting Olympus's uniqueness, add to the model's appeal.
RICOH GR series has long kept the concept of a compact and light snap shooter with 28mm fixed focal length since its first, "RICOH GR1", a film camera released in 1996. While retaining the same basic design and usability, the series has evolved into the incomparable compact camera, GR III.

The body is smaller than the previous model, and such functions as Macro mode became easier to use. It responds very quick, attaining higher perfection by accommodating an in-camera Shake Reduction mechanism.

Apart from the GR history and its enthusiastic fans, we highly evaluated the creators' sincere attitude toward the long-held concept and the high degree of perfection of the camera. We applaud the advent of GR III as a mature form of a GR model. An extraordinary model, attractive enough as a product. It adds value to taking photos with a camera, not a smartphone.

It raises hopes for the whole category of compact digital camera, further opening up the possibilities for high-end compact cameras.
This model expresses Tamron's very essence, with which the company provides interchangeable lenses with distinctive uniqueness that no camera makers could match with their original lenses.

This lens, with the wide-angle end at 28mm, is surprisingly small, although it has the maximum F2.8 aperture in all the zoom range and is for a 35mm full-frame mirrorless camera.

It gives a high-quality image to the image peripheries, with high resolution befitting a latest high-performance image sensor, while maintaining beautiful bokeh as a large aperture lens.

Compact enough to carry around, it lets you take photos with a shallow depth of field quite easily. Its short MOD (minimum object distance) is handy for so many shooting purposes that you may find any other lenses unnecessary.

Moderately priced on top, it seems to have been developed and offered with keen attention to users' needs.

This well-balanced, carefully designed lens would help increase the users of full-size mirrorless cameras.
(via Camera Journal Press Club via Photo Rumors)