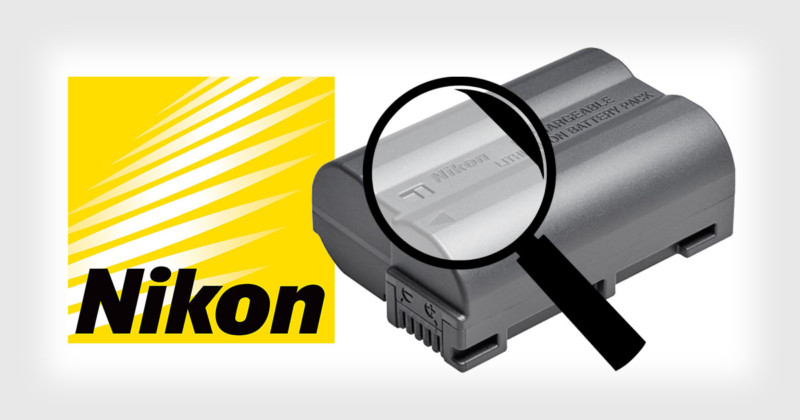 B&H informed customers this week that it recently sold a batch of "subpar" Nikon batteries and is now sending out free replacements. Nikon is now confirmed that the "subpar" batteries were counterfeit and is advising photographers on how to check their own batteries.
"It has come to our attention that we unfortunately received a subpar batch of Nikon EN-EL15b rechargeable lithium-ion batteries," B&H wrote in an email to affected customers. "Since it is impossible for us to ascertain which of our customers received from the affected batch, we will be replacing all of these batteries sent to our customers regardless of which battery they might have received."
PetaPixel learned from a source that "subpar" actually meant "fake," and that's what Nikon just confirmed to us with this emailed statement.
"We have been made aware that some customers who purchased individual EN-EL15b batteries from authorized Nikon retailers received defective product," Nikon tells PetaPixel. "These batteries are not genuine and were not manufactured or distributed by Nikon USA. Concerned users can find a guide for determining if the battery they have purchased is a genuine Nikon battery at this link."
Nikon says that it has confirmed that counterfeits are circulating for the following list of rechargeable lithium-ion battery models: EN-EL15b, EN-EL11, EN-EL10, EN-EL9a, EN-EL9, EN-EL8, EN-EL5, EN-EL3e, EN-EL3, EN-EL2, and EN-EL1.
Since even a reputable retailer such as B&H accidentally sourced and sold counterfeit Nikon batteries, you may be rightfully concerned about whether the Nikon battery you're using is genuine or (a potentially dangerous) counterfeit. Nikon is linking customers to its Support page article dedicated to helping you figure out the authenticity of your battery.
"It has come to our attention that there are some countries and regions in which counterfeit rechargeable batteries for Nikon digital cameras are available," Nikon says. "Counterfeit products may not be equipped with safety mechanisms such as the built in protection device. When these counterfeit products are used or charged, camera performance may be sacrificed, or the products may be the cause of fire or explosion due to the generation of extreme heat or leakage.
"In the worst cases, people may be burned or otherwise injured, and of course cameras or battery chargers may be damaged."
The page lists a large number of design, labeling, and packaging details you can check for — if there's a difference between yours and what a genuine product should look like, you have a counterfeit.
For the EN-EL15b specifically, counterfeit versions have "EN-EL15b" printed on the front surface.
On the back, the label on fake batteries has a number of Japanese character and English font differences (labeled in red in the comparison below):
Some differences are extremely subtle. For the EN-EL11, there's a slight difference in the black area of the box that you might not be able to tell without placing it next to a genuine box.
For the EN-EL10, Nikon also found slight differences in the white parts of the Nikon logo:
On counterfeit EN-EL1 batteries, one specific character on the label is incorrect:
And those are just a few of the differences seen by Nikon in fake batteries. To see the full gallery of discrepancies for checking your own batteries, head over to the Nikon support article, "Counterfeit and non-Nikon rechargeable batteries."