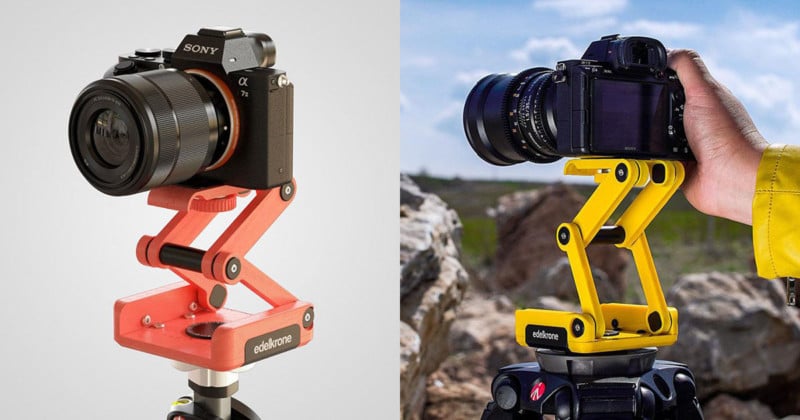 Edelkrone's Flextilt Head 2 is its best-selling tripod head. If you can't afford the $149 it costs to get one, the company has just unveiled the Flextilt Head 3D, a cheaper option you can 3D print and assemble yourself.
The Flextilt Head 3D is part of Edelkrone's new ORTAK line, which will feature 3D printable products that will put fully-functional, high-tech designs in customers hands at greatly reduced prices.
"With ORTAK method, products are manufactured by you and edelkrone together," Edelkrone says.
The most critical parts of each design will still be manufactured by Edelkrone and shipped to you. These include things like CNC machined aluminum joints and electrical components. But for the rest of the product, you'll be able to print those parts yourself and customize the design, form, and color for your exact needs.
The first ORTAK product is the Flextilt Head 3D. The CNC machined aluminum parts will cost you $29.
The rest of the parts are available as a downloaded 3D model available for download on the ORTAK page. There's also a list of tested and approved 3D printers as well as some recommended print settings.
Finally, watch the assembly video or follow the PDF guide to combine the aluminum parts and your 3D printed parts into a working tripod head.
The completed Flextilt Head 3D can support cameras up to 5.5 pounds (2.5kg) in weight. There are no buttons, no locks, and no knobs — the joints use friction technology to both allow for movement and keep things still. It can instantly be raised in height without having to deal with the tripod below.
It can also be quickly extended and tilted for various angles and types of shots.
Finally, you can achieve precise panorama shots with pan marking and lens center shifting.
Edelkrone doesn't have an estimate for how much the Flextilt Head 3D will cost you total, but it should come in well under the $149 of the "real thing" as long as you own or have affordable access to a 3D printer.
"Soon, 3D printers will be in every house," Edelkrone says. "If you don't already have access to a 3D printer, it may be time to invest in one to make ORTAK products even more feasible and see the time it takes for a return on investment drop drastically.
"We foresee a future in which visionary companies will use ORTAK co-manufacturing method to decrease costs for both the company and the customer while enabling highly customizable and more personal products."
Edelkrone says that there are more ORTAK products to come. You can stay up-to-date with the releases by signing up for the newsletter on the ORTAK webpage.