Hasselblad has announced the new XCD 35-75mm f/3.5-4.5 lens, the first zoom lens in the X System lineup. The company says it's a compact zoom lens with "prime lens performance."
The 35-75mm f/3.5-4.5 is the 9th XCD lens to be announced, joining the 21mm f/4, 30mm f/3.5, 45mm f/3.5, 65mm f/2.8, 80mm f/1.9, 90mm f/3.2, 120mm f/3.5, and 135mm f/2.8.
"Delivering the same superb image quality from edge-to-edge as the XCD prime lenses, this extremely high performance, compact mid-range zoom covers moderate wide angle to short telephoto focal lengths," Hasselblad says. "Ideal for shooting anything from wide angle landscapes to portrait images, this lens is perfect for photographers who are looking to keep the amount of equipment they carry when traveling to a minimum but don't want to compromise on image quality."
The lens features an internal focusing system that keeps the lens' length the same throughout its focal range, which is equivalent to 28-58mm in 35mm terms. The system also provides speedy performance and a reduction in the overall weight of the lens, according to Hasselblad.
Hasselblad is making lofty claims about this lens, going as far as to say it's the best Hasselblad lens ever.
"This really is the best lens Hasselblad has developed," Hasselblad lead optical designer Per Nordlund says. "I can even go as far to say that it's probably the best zoom lens currently available on the market."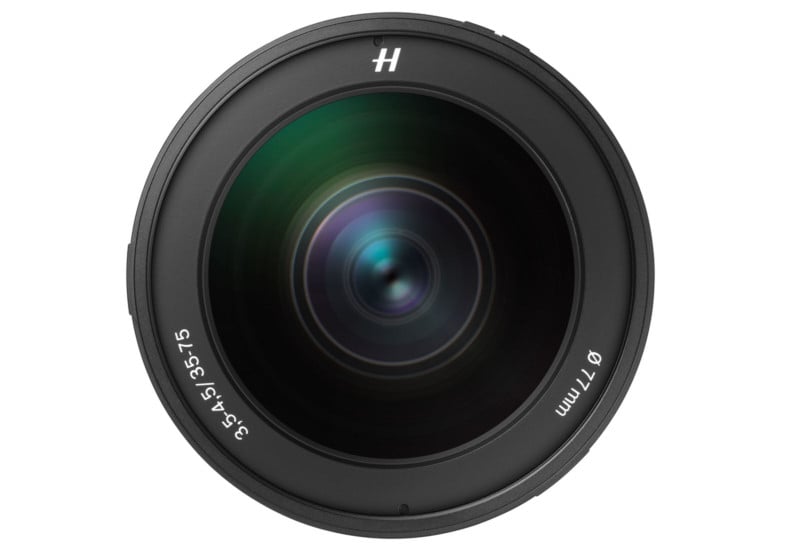 Other features and specs of the lens include a central lens shutter (exposure times from 1/2000s to 68m with full flash sync throughout), a minimum object distance of 1.38 feet (0.42m), a filter diameter of 77mm, and a weight of 2.5 pounds (1.13kg).
The Hasselblad XCD 35-75mm f/3.5-4.5 will hit store shelves in October 2019 with a price tag of $5,175.