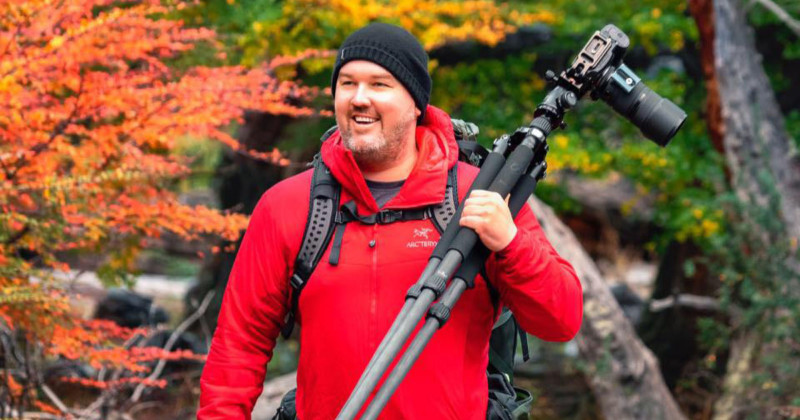 Well-known Australian landscape photographer and Nikon ambassador Dale Sharpe of DK Photography was killed in a freak roadside accident yesterday. He was 36.
An announcement of Sharpe's passing was published to his official Facebook page, and the news was confirmed in a local news report by The Wichita Eagle.
Based on the Gold Coast of Australia, Sharpe was driving in a highway through Kansas in the United States at a little past midnight on June 20th when he struck a deer, leaving his vehicle disabled. While Sharpe sought safety at the side of the road while calling for assistance, smoke started billowing from his vehicle.
A passing 45-year-old motorist swerved off the road at the last moment to avoid hitting Sharpe's disabled vehicle. Sharpe tried to "run for cover into a ditch," but the oncoming vehicle drove into the same ditch and struck the photographer.
Sharpe was treated at the scene and rushed to the hospital, but he later succumbed to his injuries less than two hours later.
An ambassador for photography brands such as Nikon and NiSi, Sharpe was known for his eye-popping photos of landscapes and storms, and he had been in Kansas shooting stormchasing photos.
The last photo he posted to Facebook was uploaded from Kansas two days before his passing:
Sharpe and his wife, Karlie Russell, working together in their business DK Photography, had received international recognition for their nature photography. They're popular on social media, having attracted over 50,000 followers on Facebook and over 134,000 followers on Instagram.
In 2017, Sharpe's photo of himself proposing to Karlie under the northern lights went viral online.
Sharpe is survived by his wife and daughter, Mia. Two GoFundMe campaigns raising funds to support Karlie and Mia have already raised over $30,000 at the time of this writing. You can view and contribute to them here and here.