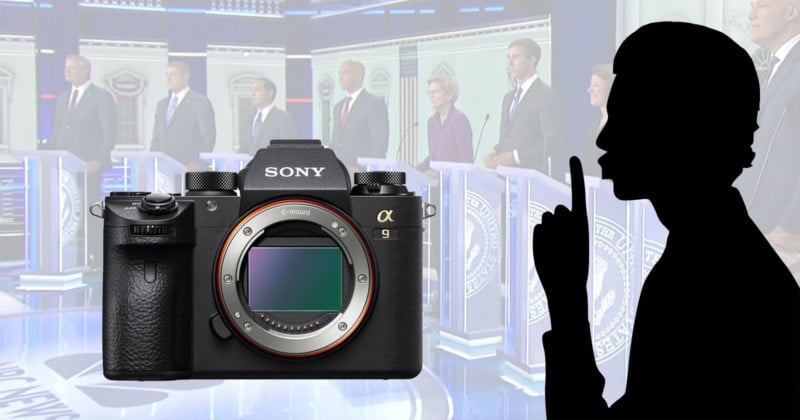 There are pros and cons to both DSLR and mirrorless cameras, but one advantage of mirrorless is making headlines after the Democratic debates this week. The completely silent shooting of the Sony a9 turned out to be a "great advantage" for one photographer.
The Washington Post reports that at NBC's Democratic debate on Wednesday night, the pool of mainstream media outlet photographers requested permission to shoot the candidates from the side of the debate stage. But when the first group started shooting, the rapid-fire shutter noise of the DSLRs was picked up in the broadcast audio by an NBC producer.
Photographers were then immediately instructed to only shoot during moments of audience applause in order to mask the camera sounds.
But New York Times photographer Doug Mills wasn't among those who had brought along a Canon or Nikon DSLR, which are still the dominant tools of choice among photojournalists. Mills was shooting with the Sony a9 mirrorless camera, which can shoot at 20 frames per second completely silently thanks to its electronic shutter.
"When I got [to the stage in the second group], the woman who was from NBC said, 'Hey, you can't shoot,'" Mills tells the Post. "I explained to her my camera was mirrorless and she was like, 'Why doesn't everybody have one of these?' So then I just kept shooting. I had a great advantage."
Here's a video in which loud shutter sounds can be heard during Trump's meeting with Obama after the former was elected in 2016:
DSLR photographers can use sound blimps to muffle their shutter sounds, but it seems most photographers didn't bring one to the debates.
"Clackety camera mirrors commonly corrupt audio feeds, and incidents such as the one on Wednesday night should accelerate their extinction," the Post writes.
(via Washington Post via sonyalpharumors)