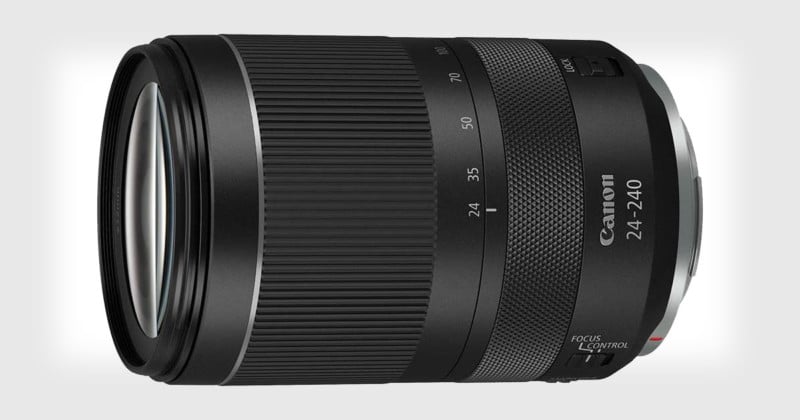 Canon has officially announced the new RF 24-240mm f/4-6.4 IS lens, a new 10x all-in-one lens for full-frame mirrorless cameras with an "entry-level price tag."
The new lens is the 6th in the RF lineup and the first telephoto zoom lens.
Nano USM in the lens provides users with fast and precise autofocusing when shooting both still photos and videos. It provides full-time manual focusing, allowing photographers to make adjustments while in AF mode.
A pioneering feature of the lens is the Dynamic IS — it's the first full-frame Canon lens to offer it, and it allows for smoother results while shooting video. Non-full-frame lenses with the feature include the Canon EF-M 18-55mm f/3.5-5.6 IS STM and Canon EF-M 11-22mm f/4-5.6 STM.
The Dynamic IS is accompanied by a 5-stop image stabilization system, which allows photographers to shoot photos and videos with minimal shake without a tripod, even in dimly lit environments.
And one of the big benefits of the versatile RF 24-240mm f/4-6.4 IS is its small size and low weight (26.4oz/750g).
"When paired with the recently announced EOS RP full-frame mirrorless camera, the compact and lightweight portability of the RF 24-240mm rivals that of a Canon APS-C camera system with a comparable EF-S lens," Canon says. "The RF 24-240mm and EOS RP kitted together are only slightly heavier and longer than the EOS Rebel T7i when it is kitted with the EF-S 18-200mm f/3.5-5.6 IS."
Other features of the RF 24-240mm f/4-6.4 IS include a minimum focusing distance of 1.64 feet (0.5m) at the wide and 2.56 feet (0.78m) at the telephoto ends, a maximum magnification of 0.26x at the telephoto end, a customizable control ring (for adjusting exposure, shutter speed, aperture, or ISO), and 21 elements in 15 groups.
Here are official sample photos shot at 24mm, 50mm, 100mm, and 240mm:
Here are a few more official sample photos:
Here are a couple of Canon videos introducing the new lens:
The Canon RF 24-240mm F4-6.3mm IS USM lens is set to hit store shelves in September 2019 with a price tag of $900. It'll also be bundled with the EOS RP with a combined price of $2,200.