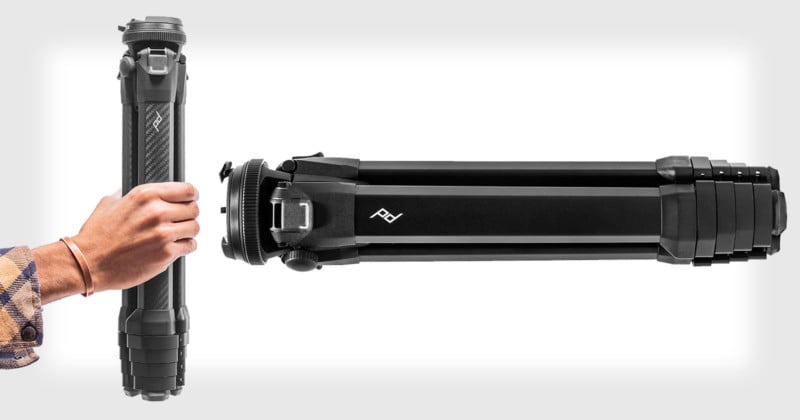 Peak Design's new game-changing Travel Tripod has been a smash hit on Kickstarter. Since being announced on May 21st, it has already raised over $8.4 million from over 19,000 backers, and there's still 7 days to go.
This is the San Francisco-based company's 9th crowdfunding campaign thus far, and it's by far the most successful. The previous top 3 were the Everyday line of bags, the Everyday Messenger bag, and the Travel line of bags, which raised $4.8 million, $5.2 million, and $6.6 million, respectively.
The new Travel Tripod is what the company calls "the world's most portable, packable, and easy-to-setup tripod for professionals and first-time tripod owners alike."
Taking up only the diameter of a water bottle when collapsed, with no protrusions, the tripod can deploy to be 5 feet (1.52m) tall.
Features include leg cam levers that can be operated together, a single adjustment ring around the 3.25-inch ball head, a proprietary quick-release plate, a built-in universal phone mount, a bubble level, a hook for counterweights, and an included soft case.
It'll be available in aluminum and carbon fiber leg variants that cost $350 and $600, respectively, but crowdfunding backers can "pre-order" them for $289 and $479, respectively, assuming the company succeeds in its plans and delivers on its promises.
As you might expect from seeing those prices on a compact travel tripod, many people balked at the cost of the tripods when they were announced. The company has since published an article about the "sticker shock," providing a behind-the-scenes look at everything that goes into making a $600 tripod and why the price is what it is.
"So, what goes into the price tag of a $600 travel tripod? More parts, smaller parts, harder to make parts, harder to assemble and inspect parts," Peal Design writes. "A smaller size, equal performance, extra functionality, and delightful user experience.
"A tripod made by fairly paid workers in safe conditions. A tripod that is made, assembled, and shipped with zero net carbon emissions. A tripod guaranteed for life. S**t, guess we could've just said that instead of writing this whole thing."
Head on over to the ongoing Kickstarter campaign if you'd like to get your hands on one of the first Travel Tripod units.