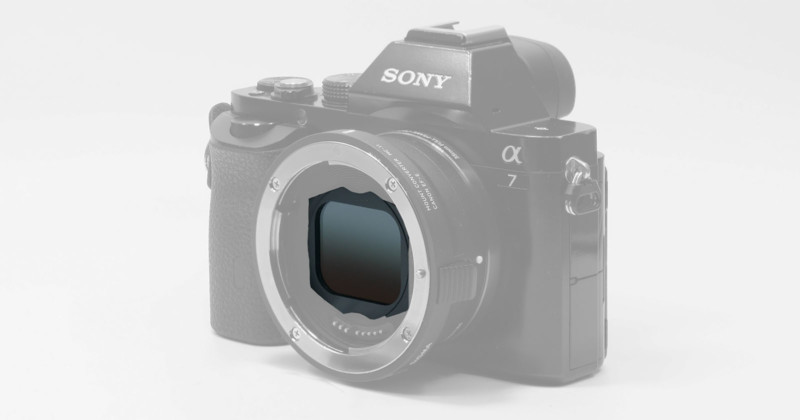 Tired of buying a new set of filters or working with step-up/step-down rings for each lens with a different filter diameter? Aurora Aperture unveiled a groundbreaking new filter system today called the Aperture Adapter Mount Format (AMF) that fixes that hassle for mirrorless camera shooters.
Instead of a filter system that screws into the front of your lenses, the AMF system is dropped into your mirrorless camera lens mount adapter. What this means is that you'll only need a single set of filters for all the lenses you use with that lens adapter.
The AMF will launch with versions that support four popular adapters: the Canon Mount Adapter EF-EOS R, the Nikon FTZ, the Sigma MC-11 for Sony E, and the Sigma MC-21 for the L mount.
The relatively small size of the compact and lightweight filters make them ultra-portable as well as affordable compared to traditional sets of circular front-mount filters — even when using a giant telephoto lens, the same small rear drop-in filter is all that's needed.
"Any DSLR lens that can be mounted on the four supported mirrorless mount adapters can be used with these drop-in filters, whether the lens has a front filter thread or not," Aurora Aperture says. "This is especially beneficial for ultra wide-angle lenses without a front filter thread which would otherwise require massive filters on a bulky adapter."
Four filters will be launched with the AMF system: the PowerUV sensor protector filter, the PowerND neutral density filter (2, 4, 6, 8, 12, or 16 stops), the PowerGND graduated neutral density (GND) filters (1.5, 2.5, and 3.5 stops), and the PowerDusk light pollution reduction filter.
Other features of the filters include Schott B270 glass (on all filters except PowerDusk, which uses neodymium glass), multi-layer nano-coatings, and aerospace-grade aluminum alloy frames.
Here's a short video introducing the new AMF system:
Aurora Aperture will be launching the AMF Filters system through a Kickstarter crowdfunding campaign later this month and is aiming to have the filters hit store shelves in October 2019. The filters will cost between $44 and $83 each, depending on the type.