Amazon discounted a wide range of camera gear for Prime Day this week, but some photographers scored what may be the best deals of their lives. Thanks to a pricing error, many people were able to purchase high-end camera gear bundles, some worth over $5,000, for just around $100.
It all started when someone noticed that the $550 Sony a6000 and 16-50mm lens bundle was being listed at just $94.50 on Amazon, and the person shared the "deal" on Slickdeals, where it hit the front page.
Many users were able to see the same price and place orders, while other users reported still seeing the normal price of $550. And it wasn't 3rd-party sellers that the $94.50 price applied to — the gear was being sold and shipped by Amazon.
But then people noticed that other cameras and bundles were also being sold for $94.50, and that's when the real frenzy started.
"Literally everything is $94.48," one member writes. "I have bought like 10k worth of stuff that was like 900 dollars total."
"I got a $13,000 lens for $94," another member writes regarding their Canon EF 800mm f/5.6L IS order. "LOL waiting for the cancellation but thats like 99.3% off."
Other members spoke to Amazon customer service about their order and were told that the order would indeed ship. Others also reported that they successfully price matched gear at retailers such as Best Buy and Walmart.
Fuji Rumors reports that photographer Cody McGee managed to buy the $1,299 Fujifilm X100F for $94.48.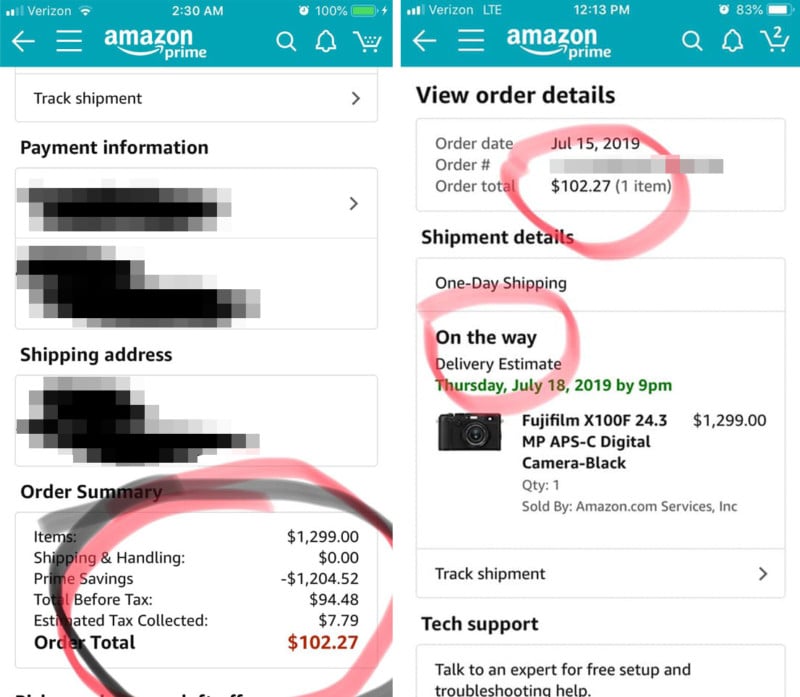 Shortly after placing the order, McGee was notified that the camera had been handed over to UPS already.
A Slickdeals member named Steeve ordered the $2,000 Canon EOS R for $94.48 and also soon received confirmation that it was on the way:
While many Slickdeals members remarked that the orders would almost certainly be canceled by Amazon, the retail giant does have a history of honoring some pricing errors — even those that are significant.
And in this case, photographers have already begun receiving their $94.48 orders.
One photographer PetaPixel spoke to saw the Slickdeals post and ordered two Sony a6000 kits for $94.48 each before he saw that the same price applied to other cameras. So he then purchased a $2,000 Sony a6500 and 10-18mm bundle for $94.48, and then a $2,000 Sony a7 body for $94.48, and then a $5,500 Sony a9 and 24-70mm f/2.8 GM bundle for $94.48.
The a7III and 10-18mm just arrived at his house yesterday, a day after he placed the order.
"I'm sure other people may have scored a better deal than I did since Amazon locked me out of my account thinking someone had hacked it, buying all these high-end cameras," the photographer tells PetaPixel. "I had another a9 in my cart, the Nikon Z6, and a Canon EOS R totaling $300, but they shut it down before I could finish checking out."
While orders placed on backordered products may presumably still be canceled and refunded, anything already handed over to shipping companies seems guaranteed to arrive at the price paid. Many Slickdeals members have already received the gear they ordered with fingers crossed.
The forum thread at Slickdeals attracted over 250,000 views and over 1,300 comments before the deal was marked as expired. It's now filled with both great celebration by those who received the gear and great remorse by those who missed out.
"After years of lurking around on [Slickdeals], I made an account today just to post this very comment to state my depression of missing this deal," one member says. "I will now go back to my corner and attempt to live vicariously through everyone else's purchase wins."
Another member writes: "This is probably the best deal I've ever seen anyone on [Slickdeals] get for a single item."