Over the past several months, there have been some rumblings in the rumor mill that Nikon is planning to release an APS-C Z-Mount camera dubbed the Z3 by rumor sites. Now, a new design patent filed in Japan seems to show exactly that: an APS-C Z-Mount camera with no built-in EVF.
We would never consider a patent image "confirmation" that such a camera is coming, but the coincidence between recent rumors and this recently unearthed patent is raising eyebrows. The original rumor on Nikon Rumors indicated that the so-called Z3 would be an, "entry-level DX camera with fix LCD screen, 24 or 26MP sensor, one micro SD card slot only, [and] probably no EVF."
Based on the patent drawings below, the "probably no EVF" looks to be spot on. We can't quite tell if the LCD is fixed, although there seems to be a tell-tale rim that would indicate it's a vari-angle screen that pops out from the body. We also can't tell if this camera would indeed only take microSD cards, a decision that would be… interesting… but has now appeared on the rumor mill multiple times.
Here's a closer look at the patent drawings of multiple angles: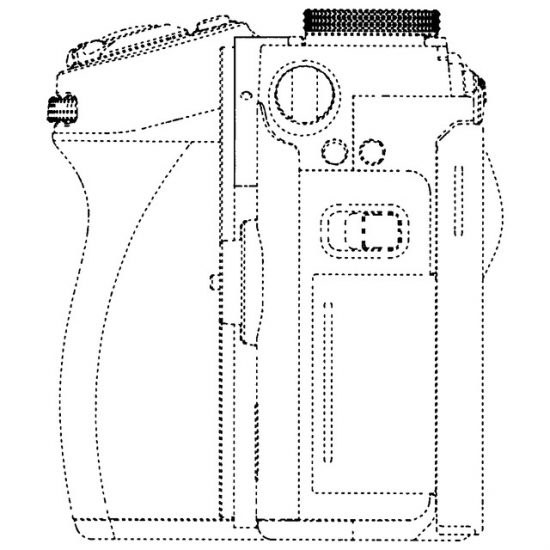 According to the most recent reports, Nikon is actually working on two DX Z-Mount cameras, one with an EVF and one without. The smaller of the two is rumored to be released in "early 2020" and be followed by three DX lenses: a 20-200mm f/4-5.6, a 35mm f/1.4, and (later) a rectilinear 8-20mm f/4. No word on when we might expect the more advanced "Z5," which would allegedly sport an EVF.
If these rumors pan out, Nikon might have a chance at stealing a few customers from Sony's popular a6XXX series of cameras. Then again, as with the full-frame Z6 and Z7, they'll be fighting an uphill battle against a company that has many years head start in this particular market.
(via Nikon Rumors)