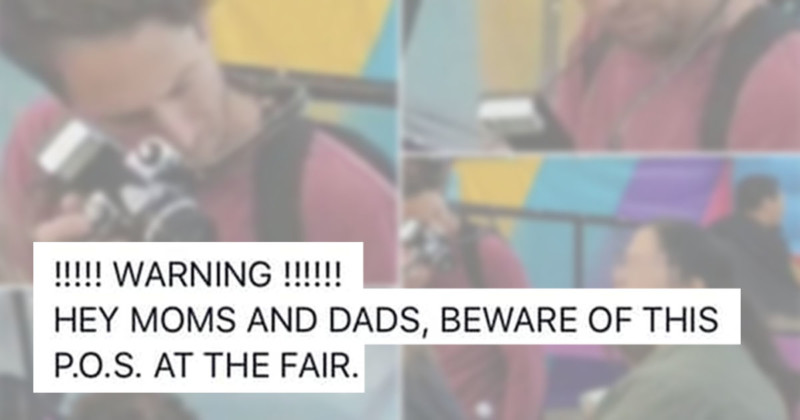 Street photographer Joshua Rosenthal visited the Ventura County Fair in Ventura, California, this week and roamed the fairgrounds while shooting candid portraits of visitors. The next day, he woke up to find that he had become the target of vicious accusations on social media and a search by local vigilantes.
"I'm a street photographer who has been making images of details a la [Michelle] Groskropf and [Jeff] Mermalstein," Rosenthal tells PetaPixel. You can find his portfolio of street photos on his website and on Instagram.
"I photograph people, often with no prior approval because the photos speak more to the moment," Rosenthal writes. "One can't capture life when it's being posed."
But when people noticed him stealthily taking pictures at the fair without asking permission from subjects first, they called law enforcement over to question Rosenthal. And the next day, the photographer found his photos in a viral social media post that referred to him as a "piece of s**t" and suggested he was a pedophile targeting young girls.
"Warning! Hey moms and dads, beware of this P.O.S. at the fair," the post reads. "He's going around taking pictures of (in this case) little girls, in dresses. You can see him walk by and snap a picture of a little girl. I didn't know I had captured him doing it until I got home and looked at the video I shot."
The post has over 500 reactions, over 1,000 comments, and nearly 2,000 shares at the time of this writing.
While some commenters on the post came to Rosenthal's defense and argued that public photography is not a crime, the thread is filled with hateful messages directed at the photographer. Here's a sampling of some of the more upvoted ones:
The local Ventura police department also posted an advisory (that has since been deleted) on its Facebook page along with tips on "keeping kids safe in a crowded place."
"The subject was contacted by police officers at the Fair on that date and has been contacted again today for questioning," the police department writes. "No crime occurred during this incident."
"No one wants to talk to me about what I did," Rosenthal writes. People are just making accusations with no facts.
"Let's not forget that a moral compass does not constitute the law. What one sees as being 'wrong' is not illegal. In today's day and age, if you see something you don't like, ask about it… I'd be willing to bet there is another story.
"Sorry I scared you (parents of some random girl). I understand that one wants to protect their kids. But protect them from what? Check out my photography guys, you be the judge."
Rosenthal tells PetaPixel that he'll be contacting the ACLU next week.
"This is more about the First Amendment and doxing than it is about me," Rosenthal says. "I'm not trying to get hurt but I'm more concerned with the rights and safety of other photographers as well as the fear I have instilled in these parents.
"It could have all been solved with a conversation, in my eyes."