A multiple-award-winning Florida wedding photographer is being called out by the local news after multiple couples have sued him, claiming he failed to delivered the photos and videos they were owed.
Stories of couples suing wedding photographers—rightfully and otherwise—for failing to deliver images and video are not uncommon. What is uncommon is for these photographers to have been praised so thoroughly in the past.
According to an expose on local news station Click Orlando, SNi Photography is at the center of multiple law suits for failing to deliver images and video. And yet, the business earned the "Best of Weddings" award from wedding website The Knot in 2016, 2017, and 2018.
SNi Photography is owned by photographer Nick Seago, and the Click Orlando expose cites several upset clients who received only part of what they paid him for, if they received anything at all. One client, Wendy Seale, successfully sued Seago for $3,000, but the photographer has yet to pay the judgement. The couple who brought the story to the news station have been waiting 10 months for their images and video, and can no longer get in touch with Seago at all.
Looking at SNi Photography's vendor page on The Knot, the business still has an overall rating of 4.7 stars, but the most recent reviews are almost exclusively 1-star, and follow a similar pattern:
"It has been six months and I can't even get a return phone call or email from this guy," writes one reviewer. "I have zero photos of our wedding day, because he asked other people to put away their cameras. So he has our money and we have nothing."
"It is now April 2019, 6 months after my wedding and I am sad to say we still have not received our photos from the wedding," writes another. "I have called and emailed him over a dozen times. I even asked if he could please just give us the pics unedited at this point I don't care I just want my wedding pictures and what we paid for. I wouldn't be so upset and angry if he would just communicate with me. But the NO communication is what is so awful and scary."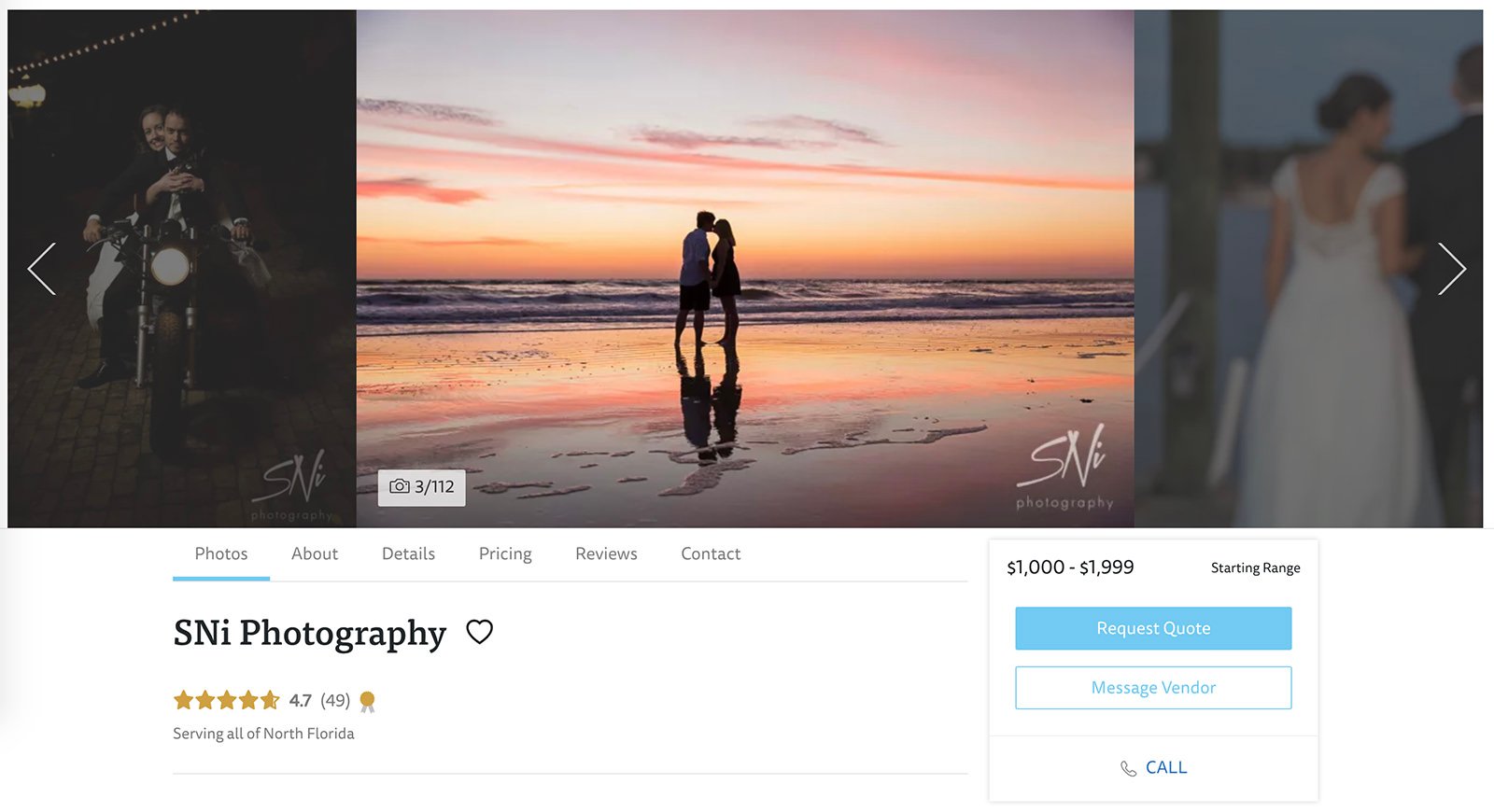 The bad reviews may not have caught up with Seago in time to prevent him winning The Knot's 2018 Best of Weddings award, but SNi Photography is now listed as an F on the Better Business Bureau, and any potential clients will see several troubling news articles if they Google SNi or Seago today.
We've reached out to Seago for comment, but it seems the photographer and his business have gone dark. The SNi Instagram and Facebook pages have been taken offline, and if you go to the SNi Photography listing on Photographer Central, you find links to another business, Seago Photography, which also seems to be defunct.
Sadly, this may be a case of a photographer simply getting behind and reacting to an overwhelming number of client complaints by going dark and trying to ignore the problem away. Tens of glowing reviews from 2017 and before point to Seago and SNi Photography having once been a thriving business that delivered great results. But when it comes to their wedding photos, people will not take fraud or failure to deliver lying down—we've learned that much time and time again.
(via Fstoppers)