If your Instagram feed has been filling up with text posts about a new "rule" that will soon allow Instagram to use your content in unprecedented and nefarious ways, don't sweat it: Instagram has confirmed that the viral meme is exactly as fake as it looks.
The post started spreading across the social network a few days ago, picking up steam as celebrities with millions of followers fell for the scam. "Don't forget tomorrow starts the new Instagram rule where they can use your photos," reads an image that has been seen by millions across the world. "Everything you've ever posted becomes public, even messages that have been deleted or the photos not allowed."
Scam-like grammatical errors and all, the message goes on to state, explicitly, that the user is hereby not granting Instagram these permission. "With this statement, I give notice to Instagram it is strictly forbidden to disclose, copy, distribute, or take any other action against me based on this profile and/or its contents," reads the statement, before citing the Rome Statute… which is a treaty that established the International Criminal Court.
You can read the full statement below: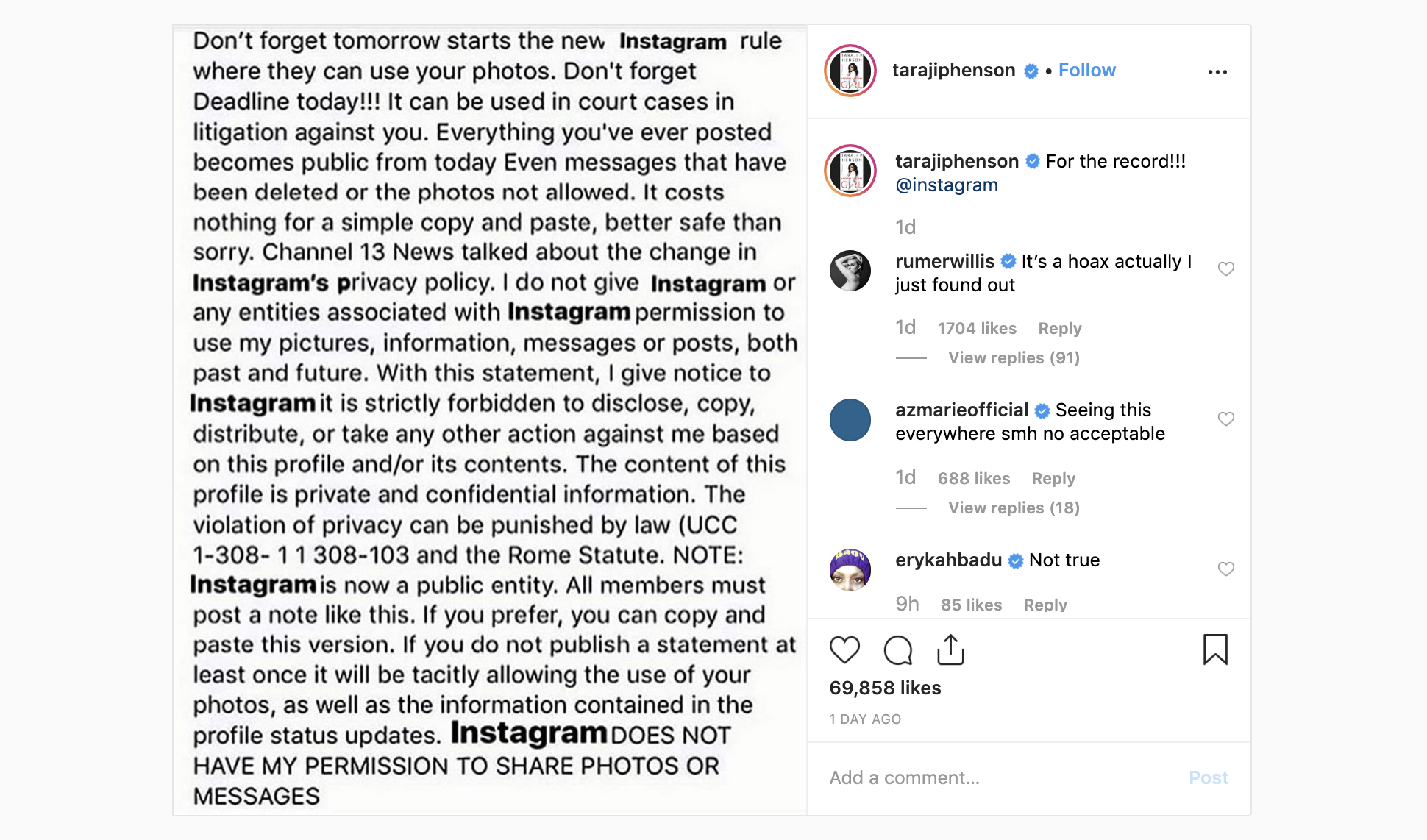 If you've been around for a little while, it should be immediately obvious that this is a hoax. Instagram confirmed as much when Stephanie Otway, Instagram's brand communications manager, told WWD "there's no truth to this post." Not only is there no new "rule" going into affect, but if Instagram's Data Policy did change to include this language, and a user agreed to the new policy and kept using the service, no image of text declaring otherwise could change that.
We first reported on this kind of hoax back in 2012, when a similar status update was spreading across Facebook.
Fortunately, the post has been widely discredited over the past 24 hours, and a fresh batch of posts mocking the update began appearing across Instagram. Trevor Noah posted this tongue-in-cheek version:
Test assured that Instagram is not instituting any new "rule" that will allow it to use your data in new and diabolical ways. After all, we already give them plenty of rights as it is. No need for an additional power grab.