I shot a full portrait session using a Lensbaby Composer Pro II with Sweet 80 Optic. Here's how it went…
Helpful Hearsay
For years I had only delivered work for clients, something which is imperative for paying the bills. But what I found was that years of shooting for someone else had really stunted my creativity. Someone pointed out to me that I needed to shoot for me as well as my clients. They told me that it would help me stay at the top of my game and avoid losing my mojo. They weren't wrong.
I'd heard from a fellow photographer that the Lensbaby system was brilliant for getting the creative juices flowing. Apparently they helped the photographer to see things that they would never have noticed before. The following video is a brilliant rundown of some of the new products that Lensbaby are offering at the moment and really helped me decide which one to go for.
The One
The Composer Pro II with Sweet 80 Lens seemed to be the perfect choice for me. As a wedding and portrait photographer, my 85mm prime lens is my current favorite and produces the least distortion. I wanted something similar which could provide me with more creative options in-camera. I paid £229 (~$280) for the Composer Pro II housing and Sweet 80 Optic in total.
Let's Do It!
I organized a full portrait session in my cabin studio which, in hindsight, was probably a little ambitious. I'd never used the lens before, in fact, it arrived only a few hours before my subject arrived at my studio!
I'd spent the morning at The Southwold Flower Co. flower fields and picked some incredible blooms to add a pop of color. I had a few moments before my subject arrived to have a practice run.
It was much harder than I thought.
A Happy Byproduct of Experimentation
I actually really love this first image as it has a vintage, almost ethereal feel about it. It reminds me of some of the early photographs from the 1900s. Not completely in focus but full of character and a sense of mystery. While experimenting with the tilt function, I moved the sweet spot around. This was another challenge as it meant that it could be difficult to see where the focus point was falling. Especially hard if you are shooting at f/2.8 (which I'd attempted with this image and the reason it isn't sharp).
The Not so 'Sweet Spot'
The first thing I noticed was that getting that 'Sweet Spot' of focus right was tough. You select your aperture on the outer ring and then bend your lens to move the sweet spot around. The smaller the number (wider you shoot), the harder it is to see that sweet spot as it diminishes significantly. As you are focusing manually, there is no correlation between your focus point and the sweet spot. It takes some practice to get used to this as you have to really watch where your focal point is.
The larger aperture you go for (up to f/16), the less light is seen in the viewfinder. As a professional photographer, you know that the wider you shoot the more light is let in. But modern cameras and lenses don't show you this as it happens. You would normally adjust your ISO and everything is still clear in the viewfinder.
When shooting wide with a Lensbaby, you have to make sure you don't flood the scene with too much light. If you do, your image will be blown. If you are shooting at f/16, you'll struggle to see your subject as the light is restricted in the lens. This means that you have to physically increase the light in the area or increase your ISO. This will then be reflected in your viewfinder.
Experiment with Depths of Field
This one was closer to the mark with the focus being on the little girl's face. I had to stop down to about f/11 to make sure the sweet spot was on her eyes. Because of this, I then had to increase the ISO and up the power on the studio light.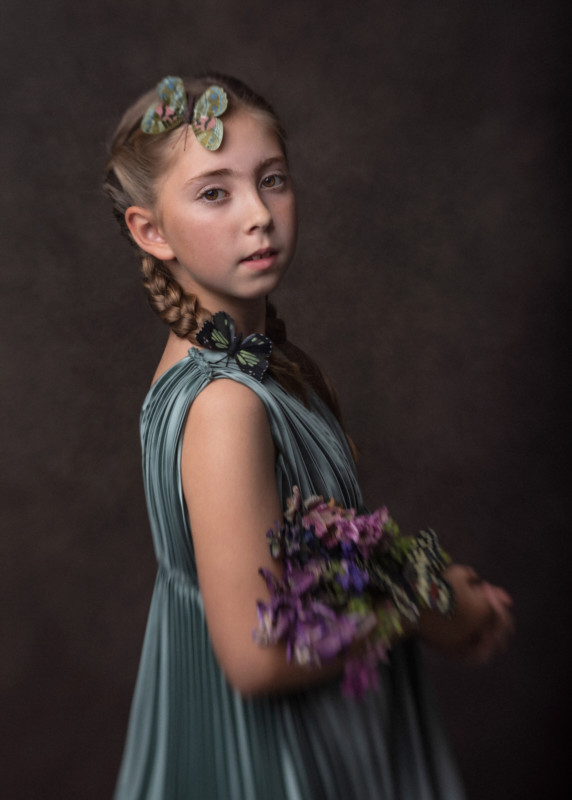 Happy!
These three portraits came out really well and I'm super pleased with them. The first was at f/5.6 and I had to walk backwards to make sure the focus was on her eyes. I love how her quiff and the bottom of her hair and some of the butterfly go out of focus.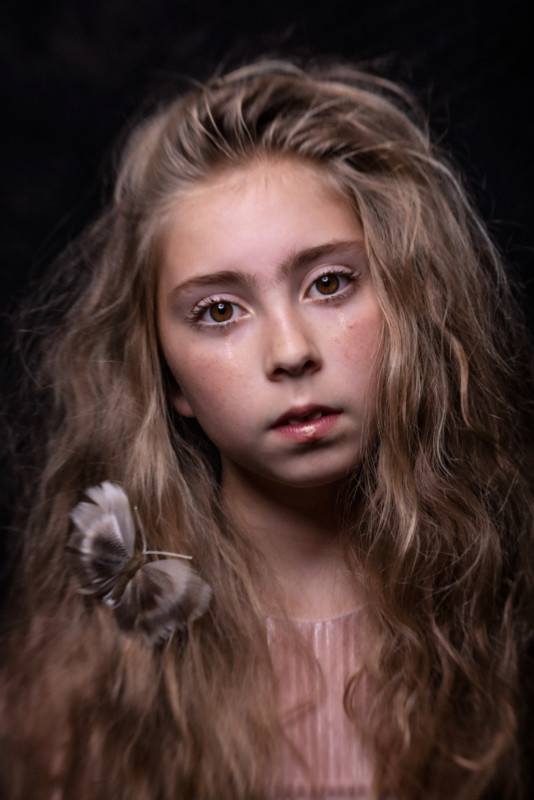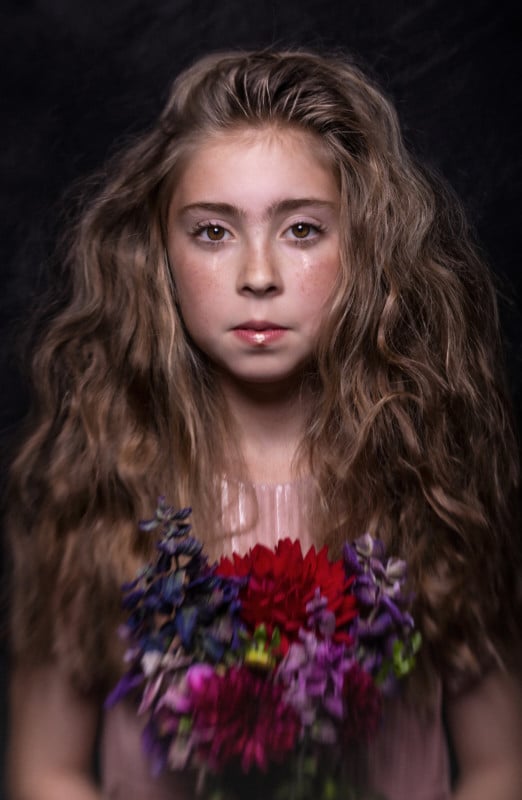 Hit and Miss
I'm really pleased with how these came out! The only thing is that her eyes are slightly out of focus on the portrait on the first and last images. I used f/4 and as this sweet spot is much smaller, thought I could step backwards and get it over her eyes. I'd failed to notice that the lens was slightly off-center from a previous shot I'd taken where I'd taken using the tilt function. The portrait in the middle came out beautifully although I may crop in so the hand is lost out of the frame.
Playing it Safe? Or Getting it Right?
I went with f/11, knowing it would make the sweet spot larger. This way I would have more chance of getting her face in focus. I also stepped as far back as my space would allow, maximizing the chance of it being in focus.
If I'd had time to practice, I may have found a way to get to f/2.8 and the sweet spot in the right place. However, I didn't have that time and thought that I managed pretty well considering it was my first time! In any case, I'm really happy with how this turned out.
My Absolute Favourite
This one has my heart. I went with an aperture of f/8 and I WISH I had gone with f/11 or f/16 to get the orange dahlia completely in focus. It is still my favorite image of the afternoon though and I'm so pleased with the distortion from the flower and below. What it does to the sparkles on her collar and the texture of the velvet dress is lovely, all while keeping her eyes in pin-sharp focus.
The Wild One
This one was a real risk for me. I had asked my talented friend from Alfred Dubois Millinery to create the headdress and had used another incredible flower from The Southwold Flower Co. to set off the little birds we'd added at the last minute. I decided to go for it and shoot at f/4 and back up as far as I could go. You'll notice that the sweet spot is over the eye closest to the camera and not quite over the other. To be honest, I'm not even worried about that because I am over the moon with the rest of it. When I asked for the headdress to be made, I hadn't factored on this level of distortion so wasn't prepared for it to be so out of focus. However, I really like how it's turned out. The level of bokeh at the top and the bottom of the image really sets it off for me. How funny that it is nothing like the image I had in my head when we set it up!
The Verdict
So I may have been over-ambitious in my planning of a full portrait session. This much is true. But I think it worked!
This portrait session, shot with a Lensbaby Composer Pro II with the Sweet 80 Optic, went VERY well. The lens has so much creative versatility, I'm already planning to shoot on location with it. I WANT to put it on my camera and go on an adventure to see what it unearths. There is no question that I am going to have to use it a LOT to get to grips with how it works. But I am so excited to do just that. The whole reason I bought this lens in the first place is because I had lost my mojo. In a single session, it has reignited my passion for photography and made me want to get out there and shoot.
I would say that for that reason alone, it's worth every penny.
---
About the author: Haleana Knights is a UK-based photographer specializing in wedding, lifestyle, and portrait photography. The opinions expressed in this article are solely those of the author. You can find more of Knights' work on her website, Facebook, and Instagram. This article was also published here.