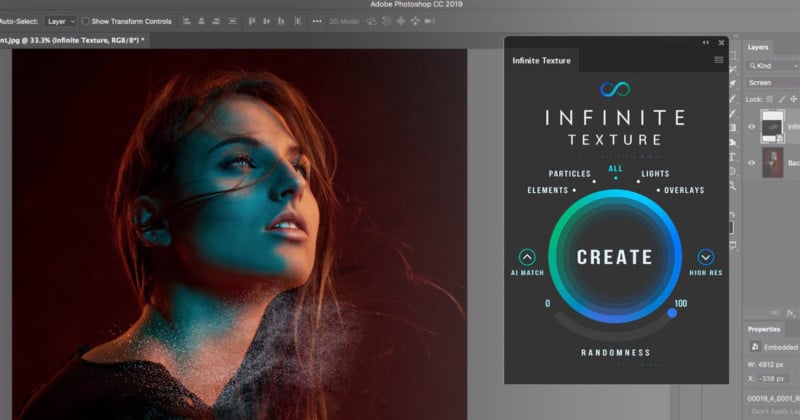 Last year, retoucher Pratik Naik released the Infinite Color Panel for Photoshop, a smart and powerful color grading tool. Now he's back again with the Infinite Texture Panel, a powerful AI-powered tool that helps you quickly work with nearly $10,000 in high-quality textures.
Created in collaboration with Stefan Kohler (the founder of RAWexchange International) and Conny Wallstrom, the Infinite Texture Panel uses AI to sort through a massive trove of textures organized into four major categories: Lights, Overlays, Particles, and Elements.

Everything is accessed through a minimalist and elegant interface that invites you to explore all kinds of texture styles.
The AI.MATCH feature can also intelligent find suitable textures for you in three ways.
First, you can simply scribble a rough idea of what you're looking for and it'll find matching textures:
Second, you can show the panel a texture you found that you don't have permission to use, and it'll find a similar texture that you can commercially use.
Finally, when you've already found a texture in the system that you like, AI.MATCH can find other textures that are similar to it. And the "intelligent randomness" of suggestions can be tweaked using the slider.
Here's a 13-minute video in which Naik gives a walkthrough of how the panel works (note: there are some sample photos that may not be safe for work):
The textures library behind the panel — currently estimated to be worth roughly $10,000 — will grow over time based on user demand, so you'll continually have access to a wider range of imagery to meet your needs.
The full version of the Infinite Texture Panel costs $149, and there's also a free Trial version that provides access to the same full textures library but lacks high-res downloads, realtime AI.MATCH, and commercial image licensing.