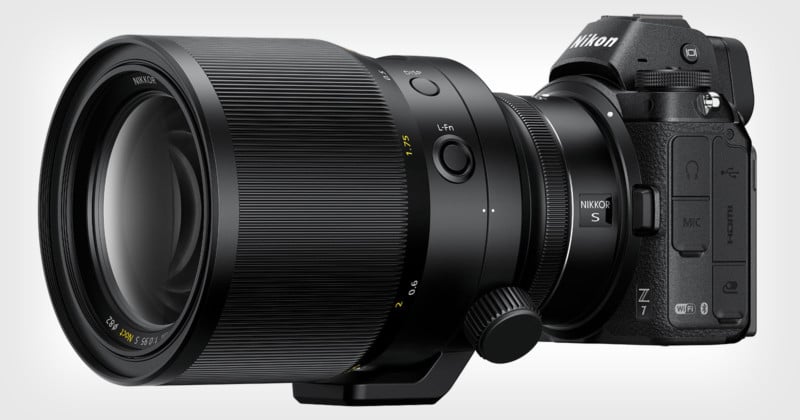 Nikon has officially launched the new Nikkor Z 58mm f/0.95 S Noct, the fastest Nikkor lens ever made.
"The 58mm Noct is a one-of-a-kind lens that pays homage to the extraordinary optical legacy that the previous Noct-NIKKOR 58mm f/1.2 lens established, while demonstrating the superiority and potential of the Nikon Z Mount," Nikon says. "Created for the most discerning photographers, the new Noct lens is an exclusively manual focus prime lens with an incredible maximum aperture of f/0.95 for a truly dramatic depth of field and next-level low light performance."
Nikon says that it has eliminated sagittal coma flare across the entire frame when shooting point light sources at maximum aperture. The point light sources are captured as tack-sharp points, allowing for better low-light photos for things like portraiture, landscapes, and astrophotography.
The front of the lens features ARNEO and Nano Crystal coatings that help to minimize ghosting flare and incident light reflection. There's also a fluorine coating that repels dust, dirt, and moisture.
On the side of the lens is an information panel that makes it easy for photographers to check aperture, focus distance, and depth of field information with a quick glance. There's also an Fn button that a number of functions can be assigned to.
Other features and specs of the 58mm f/0.95 include an electromagnetic diaphragm mechanism, a large-diameter ground aspherical lens element (for an ultra-high refractive index), 17 lens elements in 10 groups, an ultra-precise focusing ring (useful for shooting at f/0.95, a customizable control ring, and a felt-lined lens hood.
Here are some official sample photos captured with the lens:
Here's a short official Nikon video introducing the new lens:
The new Nikkor Z 58mm f/0.95 S Noct will hit store shelves on October 31st with a price tag of $8,000.