On Monday, we reported on the controversially low score that DXOMark gave to the Canon 1D X Mark III. The brand new camera somehow scored worse in every category than its predecessor, the Mark II. Now we know why.
When we were preparing our initial report on the confusing results, we reached out to DXOMark to see if they could explain why the camera scored as low as it did. Earlier today, we received a response from Marketing Communications Director Anwesha Ghosh, who shared info from the company's experts that sheds some light on the results.
"Portrait and Landscape scores result mainly from high Color Sensitivity (CS) and Dynamic Range (DR) measurements almost always at native (lowest ISO setting)," explains Ghosh. "The Canon EOS-1D X Mark III has a native ISO of 136 which is very high compared to its predecessor the Canon EOS-1D X Mark II which is at 63."
You can see this illustrated clearly in the chart below, which DXOMark shared with PetaPixel over email. Measured ISO vs Manufacturer ISO is simply worse on the 1DX Mark III:
This also explains the Low Light ISO score, which is based primarily on Signal-to-Noise Ratio (SNR), Color Sensitivity, and Dynamic Range measurements. The difference of "approximately 1/3 of a stop" in the SNR measurement between the two DSLRs explains the 1/3 of a stop difference in the Low-Light ISO score.
So… what does that mean in practice? As Ghosh tells PetaPixel, not much:
At equivalent ISO measurements the two DSLRs generate very similar results in DR, TR and CS. Which means that when in use, the two DSLRs give identical results other than in the best possible conditions where the Mark II has an advantage on account of its better performing native ISO.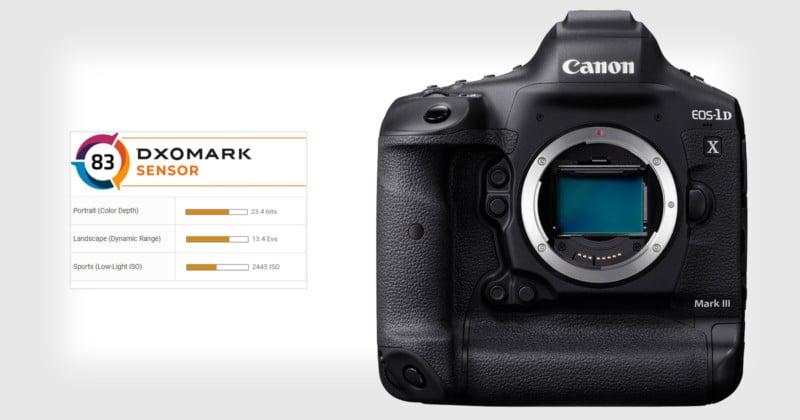 To DXOMark's credit, the explanation is right there in the review.
"Although manufacturers have been improving sensor sensitivity in new models, it is important to keep in mind that in general, the increases in maximum dynamic range and color depth over the last few years have come from lower ISO settings," reads the intro to the Image Quality section.
So while Canon has packed some killer features into the 1D X Mark III that make it well-worth the upgrade for sports shooters, the measured native ISO simply falls short of its predecessor. As a result, sensor-specific tests like DXO's show the camera losing across the board. What you do with that data… that's up to you.
---
Image credits: Header image by Kal Visuals, CC0