When the Gran Teatre del Liceu opera house in Barcelona reopened on June 22nd after the months of coronavirus lockdowns, its first concert was rather unusual. Instead of humans filling the seats, the live performance was attended by 2,292 plants.
The unique concert was put together by conceptual artist Eugenio Ampudia and the Max Estrella gallery, who found concertgoers that didn't need to be socially distanced and filled out the seats and balconies of the 6-level hall that was first opened in 1847.
Attendees included palms, Dracaena, snake plants, fiddle-leaf figs, Monstera (the "Swiss cheese plant"), and more.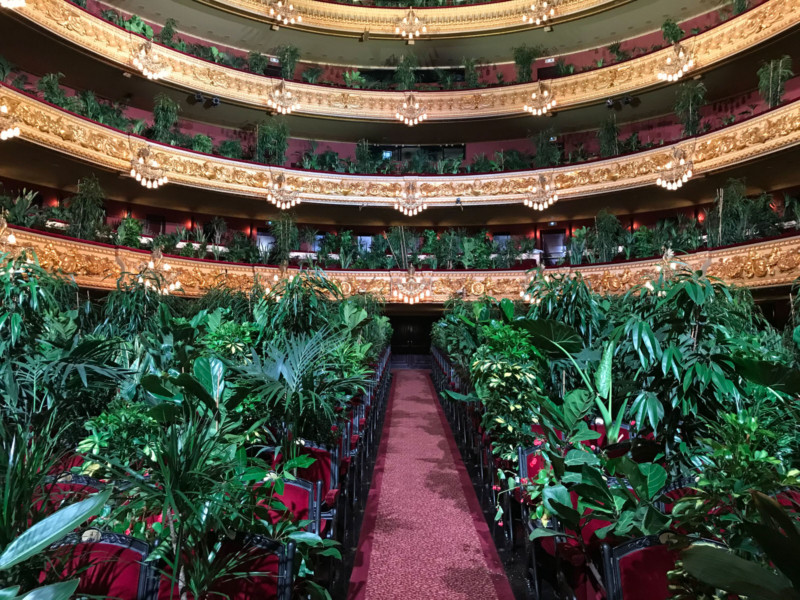 As the plants from local nurseries listened on, the UceLi Quartet string quartet played Puccini's "Crisantemi" in a performance that was also streamed online to virtual attendees around the world.
"After a strange, painful period, the creator, the Liceu's artistic director and the curator Blanca de la Torre offer us a different perspective for our return to activity, a perspective that brings us closer to something as essential as our relationship with nature," the Liceu writes.
After the concert, the plants that attended were donated (along with a certificate from the artist) to 2,292 healthcare workers who have been battling COVID-19 on the frontlines of the ongoing pandemic.
(via Gran Teatre del Liceu via Colossal)
---
Image credits: Photographs by Gran Teatre del Liceu and used with permission