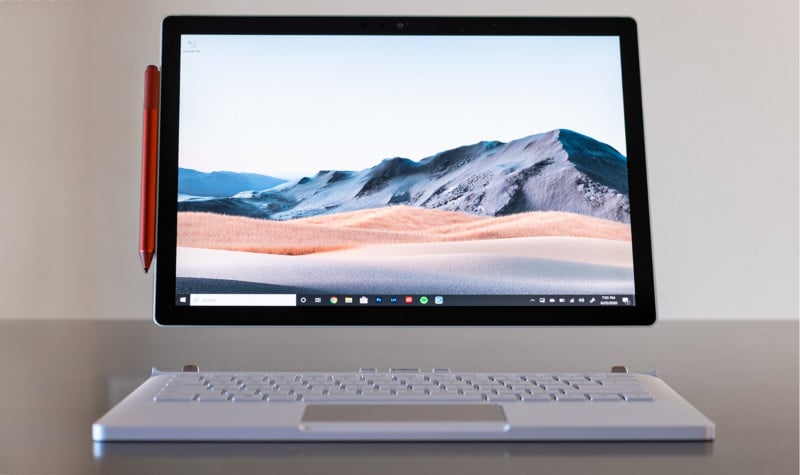 I like the Microsoft Surface Book 3. In fact, I like it a lot. The build quality is great, and the design is both useful and pretty much unique right now. But it's also flawed… critically flawed by the selfsame design that makes it a unique product, which is why I can't recommend it to most working photographers.
Intro and Specs
When we reached out to Microsoft for a review unit of the Surface Book 3, they initially planned to send the 15-inch model. But, knowing the limitations inherent to the Surface Book's design, I asked to review the 13.5-inch model instead. There's no way the 15-inch Surface Book 3 can keep up with the 6- and 8-core laptops in its size/price bracket, but with its dedicated GPU, 32GB of RAM, and quad-core i7 processor, I wanted to compare the 13.5-inch model to the new 13-inch MacBook Pro that we recently put to the test.
Apple's latest computer really surprised me, and I wondered if the Surface Book 3 would be able to keep up in terms of either usability or performance. Would its unique design, high-quality touchscreen, pen compatibility, and the option for a dedicated GPU make this the better choice for some photographers?
The answer is… sort of, but only for a specific kind of photographer. But now I'm getting ahead of myself. Let's take a look at the specs. As usual, the review unit we received wasn't the base model, but one of the higher-end (and higher-priced) variants that you can buy:
Microsoft Surface Book 3, 13.5-Inch
CPU: 1.3GHz Quad-Core i7-1065G7, 3.9GHz Max Boost
GPU: NVIDIA GeForce GTX 1650 Max-Q with 4GB GDDR5 memory
Storage: 512GB SSD
RAM: 32GB 3733Mhz LPDDR4x
Display: 3000 x 2000 PixelSense Touchscreen Display
Price: $2,500
In most regards, this is the MacBook's equal: reasonably fast SSD storage, 32GB of the same really fast 3733MHz RAM, beautiful high-quality display that also happens to be a touchscreen (point Microsoft), and the base comes with a proper NVIDIA GPU (again, point Microsoft).
Where it falls short should be immediately obvious: the CPU. The 15W 1.3GHz Quad-Core chip in this model is the Surface Book's Achilles heel. This low-power CPU was chosen by necessity, because it sits behind the display inside the "tablet" portion of the computer, and without robust active cooling it simply can't keep up with more traditional 13-inch laptops under heavy load.
But we'll get to all that in the "Performance" section. First, let's touch on what's great about this computer.
Build
I love almost everything about how the Surface Book 3 is built. The balance is a little bit off because the tablet/screen is necessarily heavier than a traditional laptop display, but the aluminum finish is both extremely rigid and surprisingly soft to the touch.
The keyboard and trackpad are phenomenal. The keys come with 1.55mm of travel–which feels perfect when compared to shallower implementations like the keys you get on a MacBook Pro–and the glass-topped trackpad is exceptionally smooth and accurate. In fact, it might be my new favorite, beating Apple for "king of trackpads" on feel alone.
My only complaint is that the trackpad could be a bit bigger than it is, and the keyboard has one annoying quirk… the Menu key on the right-hand side:
Sort of like the old Razer computers that had the up arrow right next to the right shift key, I've never hit this key on purpose, always by accident. It should just be another CTRL key without having to go in and re-map it manually.
Getting back to the positives, the display is fantastic. Its 3:2 aspect ratio should really appeal to photographers, it's bright, colors are accurate, and the pen experience is solid. The bezels are, admittedly, pretty chunky for the year 2020, but they feel appropriate since you have to handle this screen by the edges when you use it as a tablet.
In terms of I/O, you get a full-sized SD card slot (thank you!), a headphone jack, a couple of USB-A ports, one USB-C (3.1 Gen 2, with Power Delivery, but NOT Thunderbolt), and the magnetic surface connector port, which can be used to hook up to the Surface Dock (sold separately) if you need Thunderbolt or more ports.
It's a bummer that Microsoft chose not to include Thunderbolt on the laptop itself, and the security flaw they're worried about feels more like an excuse than a legitimate reason to leave such a useful port out, but c'est la vie…
Finally, the webcam on this thing is actually good. There's a 5MP 1080p camera on the front of the display instead of the awful 720p modules built into pretty much every other laptop, and there's also an 8MP rear camera in case you want to take pictures in tablet mode… which you shouldn't.
Design
The most unique thing about the Surface Book 3 is its design, which still hasn't been replicated. There are computers like HP's ZBook X2 and the Acer has the ConceptD Ezel laptops, but neither try to strike the balance that Microsoft is going for with the Surface Book. All other laptops that are built for pen support either put everything in the display housing, or they put everything in the base unit.
This is one of the big pros and cons of the Surface Book 3: you can remove the screen and use it as a proper Windows 10 machine without sacrificing that much performance, especially when it comes to photo editing; but, because of this design choice, Microsoft had to use an under-powered CPU. They traded performance for usability.
Usability
In the pros column you have usability.
Under normal load you can move between tasks quickly, and the ability to detach and remount the screen backwards is great for retouching. If you really want to lounge, you can just remove the screen entirely and go hang out on the couch–you lose your GPU and the larger of the two batteries, but it's great for the occasional escape from your desk chair, and you can plug the tablet directly into the wall to charge when it's detached.
The dual-battery system also means that the 13.5-inch computer delivered solid battery life. In battery saver, with a bunch of Chrome tabs open, Slack, Spotify, and the occasional trip to Photoshop, the computer got me about 7-8 hours on one battery. In a more normal setting with the screen set a bit brighter, I'd usually be plugging up around the 5-hour mark.
Finally, I really love the pen integration. It's a dream for photo editing, making it possible to skip buying that Wacom tablet and just edit directly on the 3000 x 2000 pixel display. It's not quite Wacom pen quality, but the Surface Pen feels natural to use, unlike the dinky active stylus pens you find in some PC laptops.
Performance
In the cons column is the performance.
This is where things get ugly. For short bursts of intense work, the laptop keeps up well; but as soon as you load it up with a task that takes more than a minute or two, and the CPU hits 100% utilization, the whole system slows to a crawl.
Using Intel Power Gadget during our testing, the story becomes pretty clear. Under lighter load, the processor is regularly allowed to spike to 80 and even 90 degrees for short bursts while pulling 20 – 25W of power and boosting way beyond the base clock. But once it sits at 100% on all cores for any length of time, the wattage is capped between 12 and 13W, and the CPU can only manage a measly 1.5GHz. This keeps temps at a steady 69 degrees C, preventing the system from overheating, but it means that the results of our longer export tests were particularly hard to stomach.
We ran our standard suite of tests: 110 61MP Sony a7R IV files and 150 100MP PhaseOne XF files were imported, edited heavily, and exported in various formats, and we ran Puget System's PugetBench benchmark for Photoshop. Each test was run at least three times in quick succession, and we timed the results as we went.
For all of the charts below, we're showing the results from the Surface Book 3, the new top-of-the-line 13-inch MacBook Pro, and the base model 13-inch MacBook Pro.
Lightroom Import
Importing is a shorter task, so it didn't fall as far behind the competition here. That said, if you're importing a lot of images, really large images, or you run multiple imports one after the other, the computer will start noticeably slowing down after the first run.
All images were imported with Standard Previews, without Smart Previews, and each import was run at least three times. We removed the images, cleared the Camera RAW cache, and restarted Lightroom between each run to get the average times below. For this test, shorter is better:
Lightroom Export
Export is where things look really bad. To be fair, this is exactly the kind of thing the Surface Book 3 is NOT meant to handle. The GPU isn't used at all, and whether you're exporting 61MP Sony files or 100MP PhaseOne files, at full resolution that's a lot to put on a 15W chip without proper cooling.
As usual, we made heavy global edits to both sets of images, and exported each as 100% JPEGs (sRGB), 16-bit TIFFs (Adobe RGB), and DNGs with Medium previews. Each export was run three times in quick succession, and what you see below is the average time it took for each export, so shorter is better:
Photoshop Benchmark
Thanks to the more significant GPU acceleration available in Photoshop, the Surface Book 3 did much better in PugetBench than in the CPU-heavy Lightroom tests above. The GTX 1650 Max-Q smashed the MacBooks' integrated graphics scores and helped the laptop to almost close the overall performance gap.
The good news here is that the Surface Book 3 does much better at GPU accelerated tasks—certain features in Adobe Photoshop and the huge improvements recently made to Adobe Premiere, for example. But, as usual, we're focusing on stills here, so we aren't going to touch on video editing performance.
Here are the Overall scores. Higher is better:
And the category scores for General, GPU, Filter, and Photomerge. Again, higher is better:
Conclusion
The main thing holding this computer back isn't actually the CPU. I mean, that is the main thing holding it back in a literal, performance sense, but that's not what I'm talking about right now. The main thing holding it back is Microsoft's own marketing, and the expectations it creates.
As the most powerful portable computer in the Surface lineup, the company insists on saying that the Surface Book 3 delivers "Powerhouse Performance." It's right there at the top of the landing page and all their marketing materials:
Problem is, that's simply not the case for photographers. Anything that leans heavily on the CPU–which is to say: many, many things–will suffer from this low wattage chip that slows to a stagger under heavy load. Keep in mind that our review unit uses the same exact CPU Microsoft put in the 15-inch variant… and that laptop needs to compete against even more capable machines with even more powerful 45W 6- and 8-core processors.
There's no way around it: when it comes to most performance tasks that are relevant to working photographers, the Surface Book 3 will fall short of its rivals.
But this isn't a case of the company overpricing or under-powering a laptop for no reason. It was a conscious choice that was made to maintain the Surface Book 3's unique design. The ability to create an extremely capable tablet computer that runs full Windows, and pair it with a proper keyboard base that includes plenty of I/O, a separate battery, and the option for a dedicated GPU.
So, who is this computer for? Who should buy a Surface Book 3?
This computer is for the enthusiast photographer who edits a few photos at a time. It's for the creative who will take full advantage of the pen and touch display, while using the computer for less intense productivity tasks most of the time. In other words: it's for the photographer who has a day job.
If you're out shooting 1,200 photos in a session, uploading them all, and then culling out 100 that you'll need to edit and export for a client, you'll run up against this computer's limitations in a big and frustrating way. But if you–like me–primarily do a different job, shoot maybe 100-200 images per session and only edit and export 10-20 of those, you will love the versatility that the Surface Book 3 gives you. If you do a little video editing and light gaming on the side, even better.
The question many of the early = Surface Book 3 reviews have been asking is: does this product even make sense anymore? And I will go out on a limb and say that it does. Maybe not for power users. Definitely not for professional photographers. But for the millions of us whose creative pursuits are an escape, rather than a career. For those of us who spend more time typing than photo editing, but still love photography and want a machine to match.
Those people will find a lot to love here.