Recent industry-shaking news aside, Olympus isn't going anywhere just yet. In fact, earlier today, the company revealed an updated lens roadmap and released OM-D Webcam Beta Software: a Windows-only program that turns several of the most popular OM-D cameras into webcams for livestreaming and video conferencing.
First up, following in the footsteps of Canon, Fuji, and Panasonic, Olympus has released its own "Webcam Beta Software." Just like the previous releases from other companies, this first release is Windows-only, but if you happen to be a PC user and you own one of the cameras listed below, you can now use them as high-quality webcams over USB by installing this free software.
Five cameras are supported at launch:
OM-D E-M1X
OM-D E-M1
OM-D E-M1 Mark II
OM-D E-M1 Mark III
OM-D E-M5 Mark II
Unfortunately, Olympus doesn't mention plans to bring the software to macOS, but we can only assume this is in the works. For now, if you want to learn more or download Olympus OM-D Webcam Beta Software for yourself, you can find it on the GetOlympus Support website.
In addition to the webcam software, Olympus also provided a few updates on upcoming M.Zuiko lenses that are in the works. Perhaps to calm any fears that new lenses might not actually materialize, Olympus provided an update on the long-awaited 150-400mm f/4.5 TC1.25x IS PRO lens, announced development of some special 'Bird AF' firmware, and released an updated M.Zuiko lens roadmap.
According to the announcement, the M.Zuiko Digital ED 150-400mm f/4.5 TC1.25 IS PRO lens that was originally announced in development back in January 2019 "continues with an estimated scheduled release of Winter 2020." Final images of the lens are now available, and it looks to be every inch the professional super-telephoto zoom.
Additionally, the updated M.Zuiko lens roadmap has been updated with two new lenses: the M.Zuiko Digital ED 8-25mm f/4 PRO and "an unspecified macro lens," both marked with a red "updated" level in the full roadmap below (click for full resolution):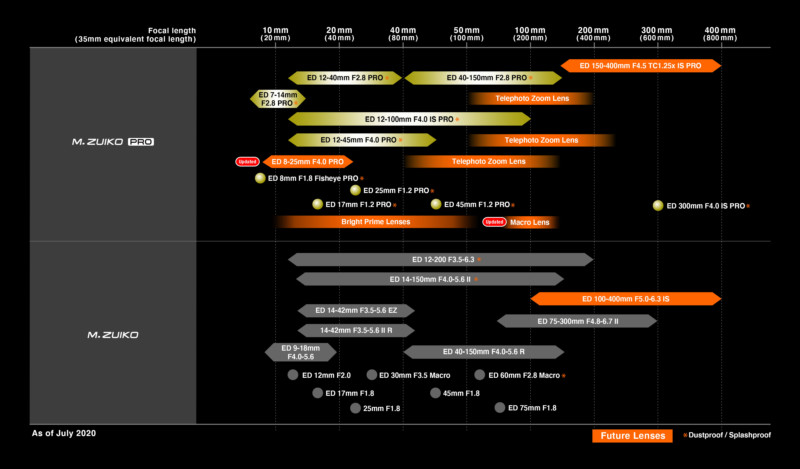 Finally, the last update comes in the form of some firmware. In order to "make super telephoto shooting more convenient" for birding and wildlife photographers, Olympus is adding "Bird Detection" capabilities into the Intelligent Subject Detection Autofocus system on the OM-D E-M1X camera. This update is expected to launch alongside the 150-400mm lens in Winter of 2020.
While the future of Olympus cameras and lenses is still far-from-certain after last week's news that the company was selling off its camera business, it's clear the company isn't going to simply shut down production any time soon. New lenses are still in the works, and current users will continue to be supported for some time.
Call it a silver lining.